Aquatic Washers
Model
Chamber Dimensions
*single door models
External Dimensions
*single door models with door closed
AC 1200
30.12 in (W)
35.43 in (D)
44.49 in (H)
47.24 in (W)
39.37 in (D)
74.8 in (H)
AC 1300
61.02 in (W)
28.74 in (D)
44.49 in (H)
69.29 in (W)
32.68 in (D)
74.8 in (H)
AC 1400
61.02 in (W)
35.43 in (D)
44.49 in (H)
77.56 in (W)
39.37 in (D)
74.8 in (H)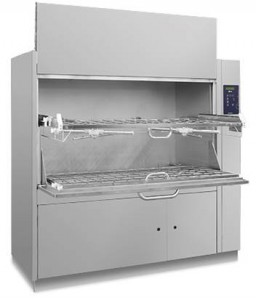 Aquatic Washer equipment cleans and disinfects all types of feeding bottles, animal cages and fish tanks. This equipment assures outstanding washing and sanitization results.
Final rinse temperature is guaranteed to reach  85°C/185°F thanks to an independent rinsing circuit.
Outfitted with certain options this becomes the ideal aquatic tank washer.
KEY FEATURES
– Drop down / vertical sliding loading door. Pass-through configuration available for AC 1400 and AC 1200.
– Chamber and doors entirely made of stainless steel AISI 316L, external body made of stainless steel AISI 304.
– Rotating spray arms positioned on the top, middle and bottom levels of the washing chamber.
– Independent rinsing circuit.
– Multi stage filtering system.
– Self-cleaning filter for the recirculation of the washing water.
– Washing pump pressure switch.
– Disinfection by rinsing at 85°C/185°F.
– Tank and sump temperature check.
– Equipped with 1 chemical dosing pump as standard, controlled by a micro-processor which allows to set the optimal dosing level for each type of cycle.
– The detergent tank level is monitored and is fitted with a low level alarm.
– RS 232 port for printer connection.
OPTIONAL FEATURES
– 2nd Chemical dosing pump
– Steam or hybrid heating
– Exhaust fan
– Integrated printer ST2
– Flow meter for the checking and the validation of the dosing volume of the chemical
– Knock down configuration
– Drain pump
– Double door pass through version (available for AC 1400 and AC 1200)
No products were found matching your selection.